Cara Jocelyn Delevingne est née le 12 août 1992 à Londres. C'est un mannequin britannique qui est baignée dans le monde de la mode depuis toute petite.
Cara Jocelyn Delevingne was born on the 12 of august 1992 at London. It's a british model who born on the world of fashion.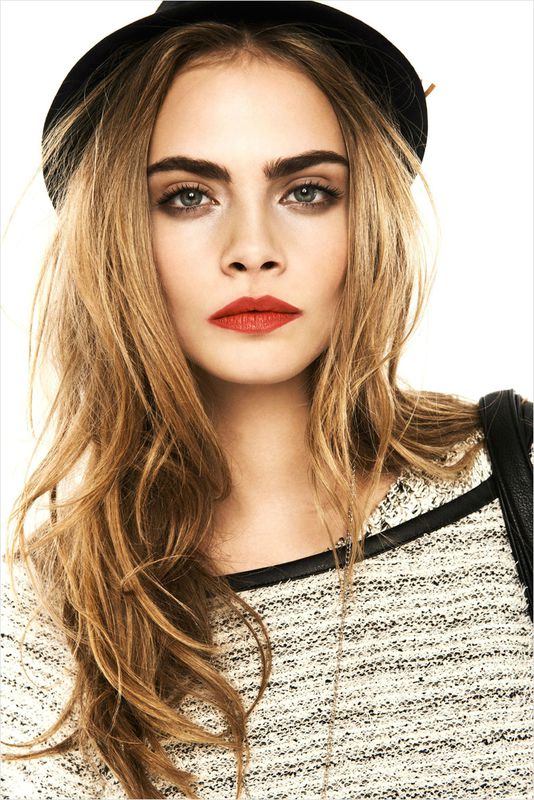 Effectivement, sa mère est "personal shopper" (une personne qui doit faire les boutiques à la place de son employeur), elle est également la petite fille de Sir Jocelyn Stevens, l'ancien chef de l'English Heritage (c'est un organisme publique qui gère le patrimoine anglais), mais aussi ancien directeur général du London Evening Standard et du Daily Express. Sa soeur est Poppy Delevingne, elle est également mannequin.
Effectively, her mum is personal shopper, she is also the granddaughter of Sir Jocelyn Stevens, the ex-chief of the English Heritage, but the ex-CEO of the London Evening Standard and of the Daily Express. Her sister is Poppy Delevingne, she's a model too.
Cara allait au "Bedales School" (une des écoles les plus chères de Grande-Bretagne, qui fut aussi la première école mixte d'Angleterre) et fut repérée par la mère d'une de ses amies, directrice de Storm Models. Storm Models est l'une des plus importantes agences de mannequins du monde. On y trouve Alessandra Ambrosio ou Kate Moss.

Cara went to the "Bedales School" (one of the most expensive schools of Great Britiain, which was the first mixed school of England) and was spotted by the mother of one of her friends, director of Storm Models. Storm Models is one of the biggest agencie of models of the world. There are Alessandra Ambrosio or Kate Moss.
Sa carrière commence en 2009, lorsqu'elle signe un contrat avec cette marque. L'année d'après elle devient l'égerie de la marque Burberry, puis elle signe avec DNA Models en 2011. DNA Models est une des trois plus grandes agences du monde, ils ont signé avec Alessandra Ambrosio et Doutzen Kroes.
Her career started in 2009, when she signed a contract with this brand. A year after, she became the muse of Burberry, then she signed with DNA Model in 2011. DNA Model is one of the top-tree agencies of the world, they signed with Alessandra Ambrosia and Doutzen Kroes.
Elle a posé pour des magazines comme V Magazine, Harper's Bazaar, I-D, Love et Numéro.
She posed for magazines as V Magazine, Harper's Bazaar, I-D, Love and Numéro.
En 2012 elle défile pour Dolce & Gabana, Stella McCartney, Fendi, Donna Karan et Victoria's Secret. Elle fut désignée comme "mannequin de l'année" par le British Fashion Council (organisme britannique qui promouvoit la mode).
In 2012, she paraded for Dolce & Gabana, Stella McCartney, Fendi, Donna Karan and Victoria's Secret. She was elected as "model of the year" by the British Fashion Council (british organization which promotes fashion).
Elle fait ensuite la une de la version anglaise de Vogue, pose pour Chanel, devient le visage de la collection automne-hiver 2012-2013 et printemps-été 2013 de chez Zara et l'égérie de Body Tender, le parfum de Burberry. Elle pose aussi pour la collection printemps-été 2013 de chez Pepe Jean's. Puis, elle devient la muse de la collection de chaussures en plastique de Karl Lagerfeld en collaboration avec la marque Melissa et représente le mascara Baby Doll d'Yves Saint Laurent.
She was the front page of British Vogue, she posed for Chanel, became the face of the automn-winter 2012-2013 and spring-summer 2013 collection of Zara and the muse of Body Tender, the fragrance of Burberry. She posed for the spring-summer 2013 collection of Pepe Jean's. Then, she became the muse of the collection of shoes in plastic of Karl Largerfeld, in collaboration with the brand Melissa, and represents the Baby Doll mascara of Yves Saint Laurent.
Cara pour Victoria's Secret dans cette vidéo à 2:13.
Cara for Victoria's Secret in this video at 2:13.
Cara pour Body Trend, de Burberry.
Cara for Body Trend by Burberry.
J'aime énormément Cara, elle a vraiment ce petit truc qui fait la différence.
I really love Cara, she has this thing which do the difference.
-THE END-
Bonus: Cara chantant "Sonnentaz" Sun Don't Shine (cliquez).
Bonus: Cara singing "Sonnentaz" Sun Don't Shine (click on).
Enjoy :)xo