Bonjouuuur, vous ne m'avez pas vue depuis longtemps, j'en suis désolée!
Aujourd'hui je vais vous dire quelque chose que vous devez savoir sur moi...
Hello, you don't see me from a long time, I'm so sorry of that.
Je suis une mangeuse de séries. J'aimerais vous présenter celles que j'ai regardées, aimées, adulées, adorées.
I'm an eater of series. I want to introduce you the ones I watched, loved, worshiped, adored.
Grey's Anatomy, Pretty Little Liars, HIMYM, Les Frères Scott / One Tree Hill, Skins, Vampire Diairies, Gossip Girl, Mon Oncle Charlie / Two And A Half Men, Glee, Friends, The Mentalist.
A savoir: de ces séries, je n'ai fini que OTH. En ce moment, je suis principalement plongée dans PLL, GG et Grey's.
Namely: of those series, I only finished OTH. Currently, I'm absorbed by PLL, GG and Grey's.
LES SERIES FAMILIALES / THE FAMILIAL SERIES: HIMYM, Mon Oncle Charlie, Friends.
LES SERIES D'ADOS / THE TEENAGER SERIES: Grey's, OTH, Skins, VD, GG, Glee, Pretty Little Liars.
Mentalist pourrait se placer dans ces deux catégories.
Mentalist could be in the both categories.
Je regarde certaines de ces séries comme Mon Oncle Charlie ou Friends avec mon père, et les autres toute seule la plupart du temps.
I watched some of these series like Two And A Half Man with my father, and others alone the most of the time.
How I Met Your Mother est une série en, pour l'instant, 8 saisons. C'est un homme racontant à ses enfants comment il a rencontré leur mère, et cela dure longtemps, longtemps, très longtemps, mais on n'en a jamais assez! Cette série me fait énormément rire, elle détend, on ne se prend pas la tête.
How I Met Your Mother is a serie in eight seasons for the moment. It's a boy who tell to his children as he met their mum. Can't get enough! We laugh, it relaxes.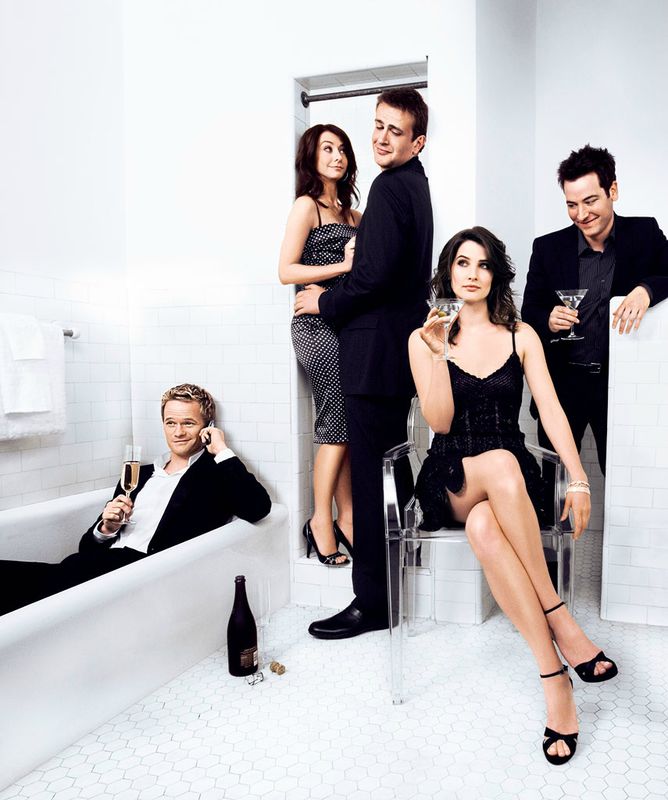 Grey's Anatomy est une série en 9 saisons, et en comptera une 10e prochainement. Cette série montre la vie de chirurgiens, au boulot et en dehors. Son personnage principal en est Mérédith Grey (Ellen Pompeo). Elle m'a fait rire, mais aussi beaucoup pleurer. J'en suis au début de la 9ème saison, et je peux vous dire que j'ai versé des seaux de larmes pour la 8ème. Les personnages sont ultra-attachants, et il se passe toujours quelque chose. Une de mes séries préférées.
Grey's Anatomy is in nine seasons, and will count ten soon. This serie shows the life of surgeons, at work and in private life. The main character is Meredith Grey (Ellen Pompeo). It makes me laugh, but cry a lot too. I'm a the start of the nineth season, and I can tell you that I cry so much for the eighth. The characters are endearing, and there is always happening something. One of my favorites series.
One Tree Hill ou Les Frères Scott je tiens d'abord à dire que soit on aime cette série, soit on ne l'aime pas. Elle paraît un peu "ringarde" au début, mais une fois qu'on est dedans elle est géniale. Les personnages sont également très attachants, même si je trouve que certains départs de la série sont dommages, mais on ne me demande pas mon avis. Elle est en 9 saisons, qui m'ont paru bien trop courtes. Il y a eu beaucoup d'invités, surtout de chanteurs, tels que Kid Cudi, Lupe Fiasco, Jimmy Eat World...
One Tree Hill is a perfect serie. The characters are very endearing too, even if I think that some leaving are damage. It's in nine seasons, they appaered me too short. There were many guest, especially singers, as Kid Cudi, Lupe Fiasco, Jimmy Eat World...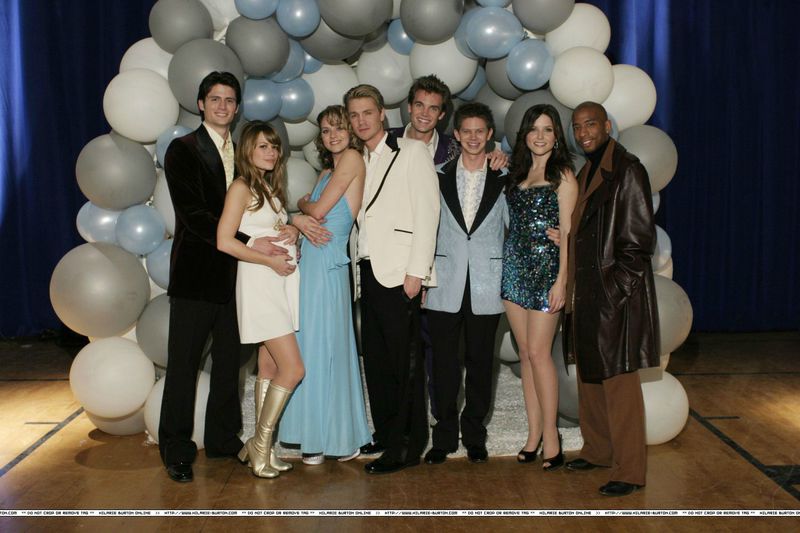 Skins est une série à ne pas regarder à n'importe quel âge, elle parle de l'adolescence, de la drogue, du sexe, de l'alcool, au sein d'une bande de jeunes de Bristol. Elle est en 6 saisons, toutes les deux saisons elle change de "bande", de génération. Dans la 1ère (saison 1 & 2), on voit Tony, Michelle, Sid, Cassie, Jal, Chris, Maxxie... j'aime beaucoup cette génération, surtout Tony, Jal et Maxxie. Dans la 2ème (saison 3 & 4) on voit Effy, Cook, Freddie, Panda, Naomi, Katie, Emily, Thomas... c'est ma génération préférée, j'adore presque tous les personnages. Ma petite préférée reste Effy, Freddie et Cook étant à égalité à la deuxième place. Il n'y a que Thomas et Panda que je n'apprécie que moyennement. Et dans la 3ème (saison 5 & 6) on voit Franky, Mini, Nick, Grace, Liv, Rich, Matty, Levan... je n'ai toujours pas fini ces saisons, je crois que j'en suis à la moitié de la 5 mais elle ne me plaît que moyennement, je ne suis pas dedans.
Skins is a serie to don't watch too young, it talk about teenagers, drugs, sex, alcohol, in a band of young boys and girls in Bristol. It's in six seasons, every two seasons it change of band, of generation. In the first generation (season 1 & 2), we see Tony, Michelle, Sid, Cassie, Jal, Chris, Maxxie... I love a lot this generation, mainly Tony, Jal and Maxxie. In the second generation (season 3 & 4) we see Effy, Cook, Freddie, Panda, Naomi, Katie, Emily, Thomas... it's my favorite generation, I love almost all the characters. My little favorite stay Effy, Freddie and Cook being equal at the second place. It's only Thomas and Panda that I don't love so much. And in the third generation (season 5 & 6) we see Franky, Mini, Nick, Grace, Liv, Rich, Matty, Levan... I don't finished those seasons, I think I'm in the half of the fifth but I don't love this generation so much.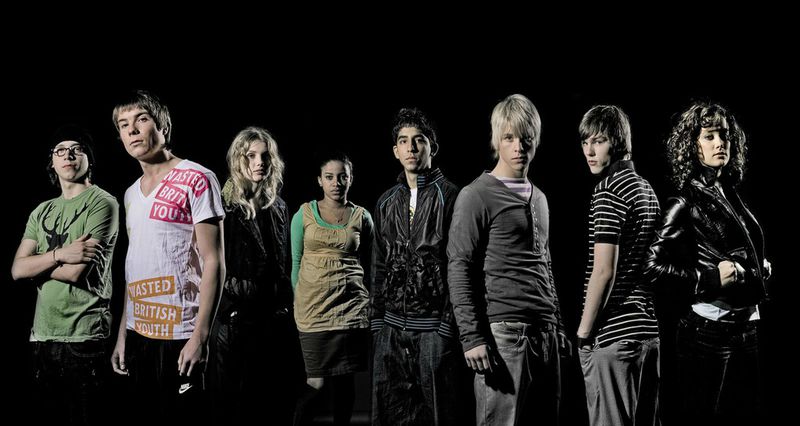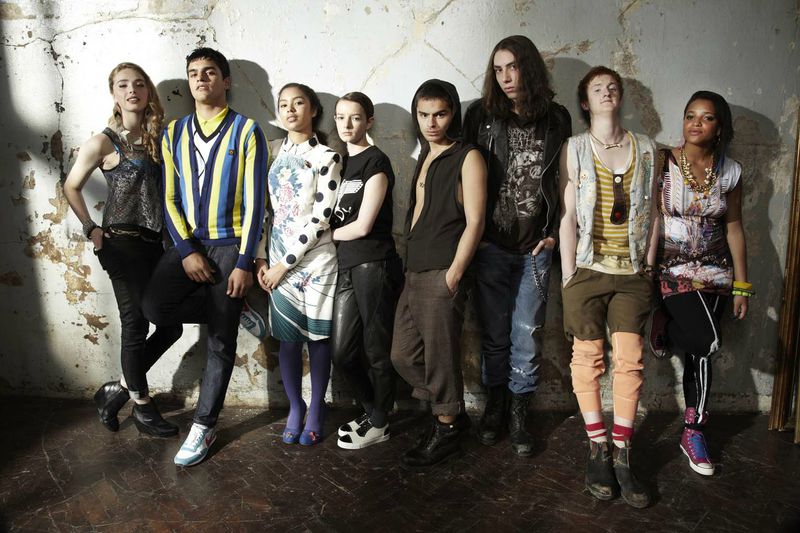 Pretty Little Liars est une série absolument géniale, c'est le summum niveau suspens. Je crois que ce serait mon N°1! Elle est en 4 saisons. Un an après la disparition d'Alison, ses amies Aria , Hanna, Emily et Spencer reçoivent des messages de menaces signés « -A. » concernant des secrets que seule Alison détenait. Les jeunes filles mènent leur propre enquête parallèlement à celle des policiers. Elles découvriront des choses qu'elles auraient préféré ne jamais découvrir.

Pretty Little Liars is an absolutely brilliant serie, it's the ultimate suspense. I think it's my number one! It's in four seasons. One year after the disappearance of Alison, her friends Aria, Hanna, Emily and Spencer receive messages of threat signed "-A." concerning secrets that only Alison knows. The young girls lead their own investigation. They discover things that they never want to know.
Mon Oncle Charlie est l'histoire d'un oncle, son frère, et le fils de ce dernier. On voit leur vie, et on ne fait que de rire. J'aime bien la regarder à la télé quand elle passe, mais je n'irais pas l'acheter. Peu importe dans quel ordre vous regardez les épisodes. En bref elle est bien, drôle, distrayante, mais pas indispensable. Je ne la complimente pas beaucoup par rapport aux autres, mais je suis en train de la regarder alors n'hésitez pas à la chercher sur toutes les chaînes quand vous vous ennuyez. Elle est en 10 saisons.
Two And A Half Men is the story of an uncle, his brother, and the son of this last. We see their life, and we just laugh all the time. I love watch it at the tv but I would no buy it. It's funny, entertaining, but not essential. It's in ten seasons, I like it.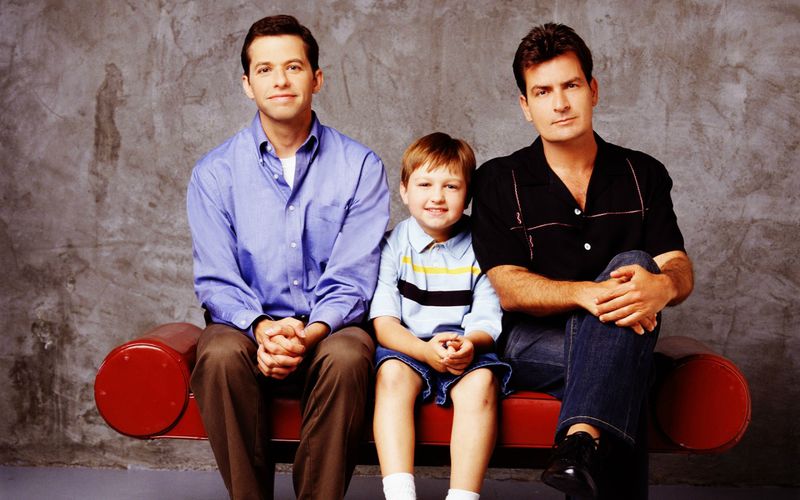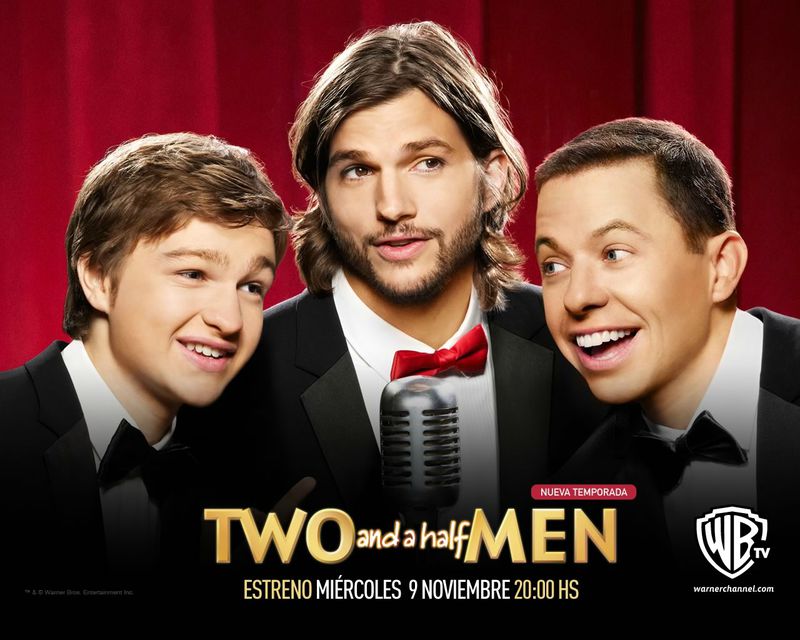 Friends est une série qui me fera toujours rire. Une bande d'amis qui vivent en colocation et qui font tout et n'importe quoi. Mais comme pour Mon Oncle Charlie, j'aime bien la regarder juste quand elle passe à la télé, je n'irais pas l'acheter. Elle est en 10 saisons aussi.
Friends is a serie that will always make me laugh. It's a band of friends who are roommates and who do everything and anything. But like Two And A Half Men, I like watch it just when it's on the tv. It's in ten seasons too.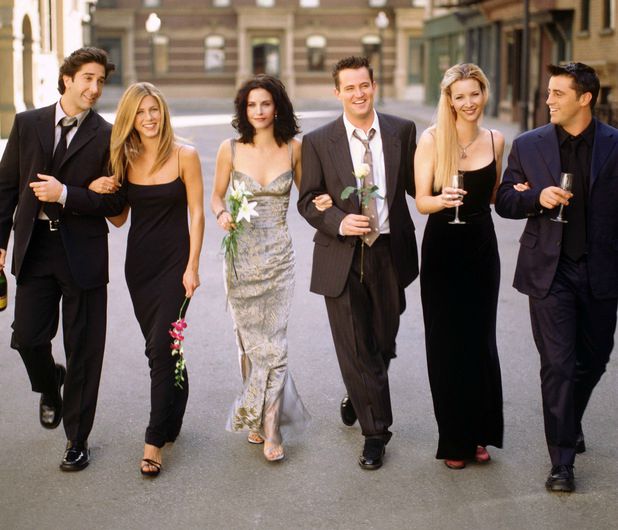 Vampire Diairies est vraiment top, même si je regardais beaucoup pendant une époque et que je ne l'ai pas fait depuis longtemps! Elle est en 4 saisons, c'est l'histoire d'une jeune fille, Elena, qui rencontre Stefan. Elle ne tarde pas à découvrir son secret, c'est un vampire.
The Vampire Diairies is really cool, even if I watched it a lot for a time and I don't do this from a long time. It's in four seasons, and it's the story of a girl, Elena, who met Stefan. It's not long to Elena to discover the secret of Stefan, he's a vampire.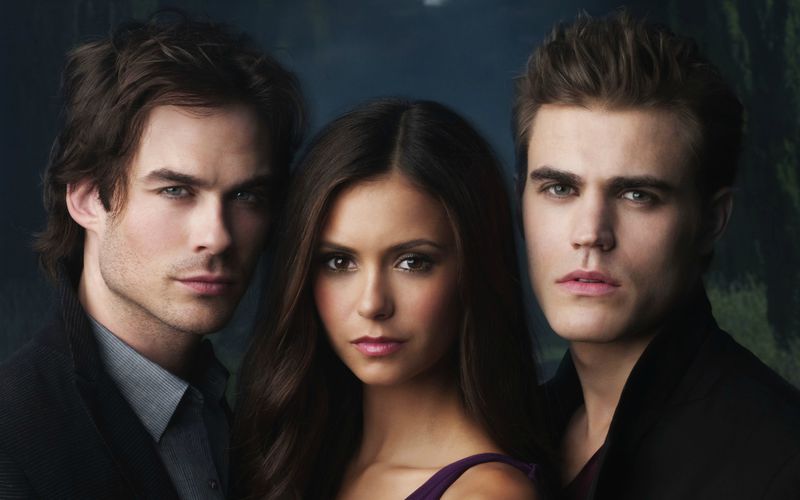 Gossip Girl est une série que j'adore, et puis l'histoire change je trouve. Ce sont des jeunes et riches New-Yorkais, qui font parler d'eux. Un site leur est consacré, sur lequel Gossip Girl développe des tas de rumeurs, mais aussi de réalités. Elle est en 6 saisons.
Gossip Girl is a serie that I love, and the story change. There are young and rich New-Yorkers who do talk about themselves. A blog is devoted, on which Gossip Girl develops a lot of rumors, but facts too. It's in six seasons.
Et la dernière, Glee. Je la regarde rarement, mais je l'aime beaucoup. Pendant une époque je la regardais réguliérement. Elle bouge, elle est drôle. Elle est en 4 saisons. C'est l'histoire d'un prof qui prend le contrôle du groupe de chant de son lycée. Des élèves bien différents viennent se joindre au club.
And the last, Glee. I watch it rarely but I love it so much. It moves, it's funny, it's happy. It's in four seasons. It's the story of a teacher who takes the control of the song club of his high school. Very differents students come join this "band".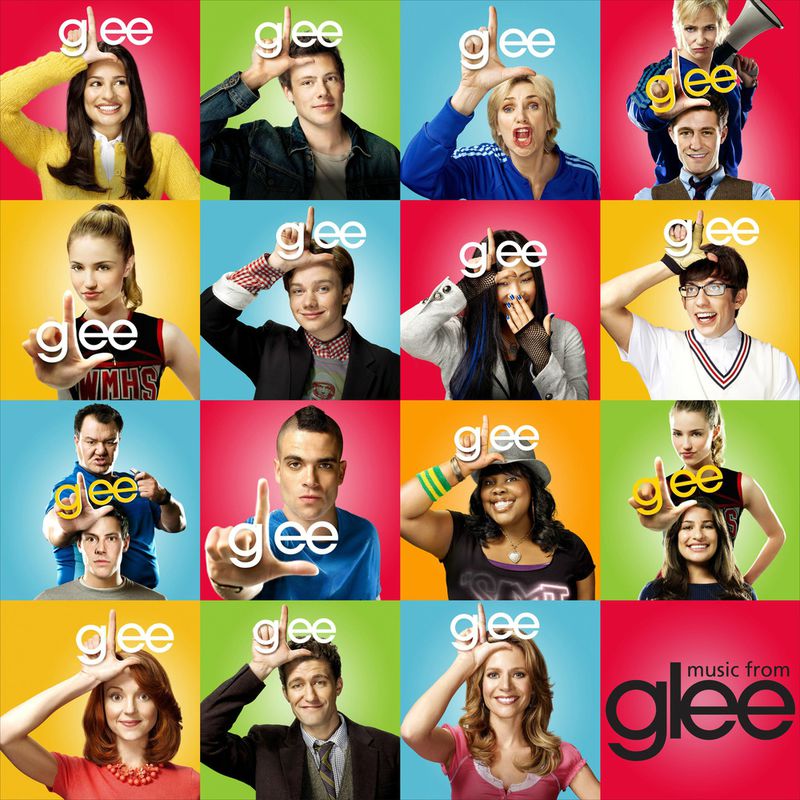 Mention spéciale pour cette série, pour la mort de Cory Monteith. Sa mort a affecté beaucoup de gens, courage à Léa et à ses proches. RIP.
Special mention for the death of Cory Monteith. His death affected a lot of people. Stay strong to Lea and all his kinfolk. RIP.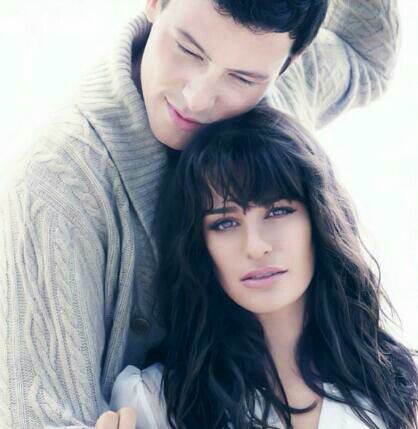 -THE END-
P.S: quelques gifs de ces séries...
Kiss on your neck babes. xoxoxo