Je veux aujourd'hui vous parler de... Charlotte Free. Peut-être que son nom n'a jamais résonné a vos petites oreilles, mais ça ne tardera pas, car son look décalé ne passe pas innaperçu.
Today, I want to talk you about... Charlotte Free. Maybe her name never resonated to your little ears, but it will not be long to, because her quirky look does not go unnoticed.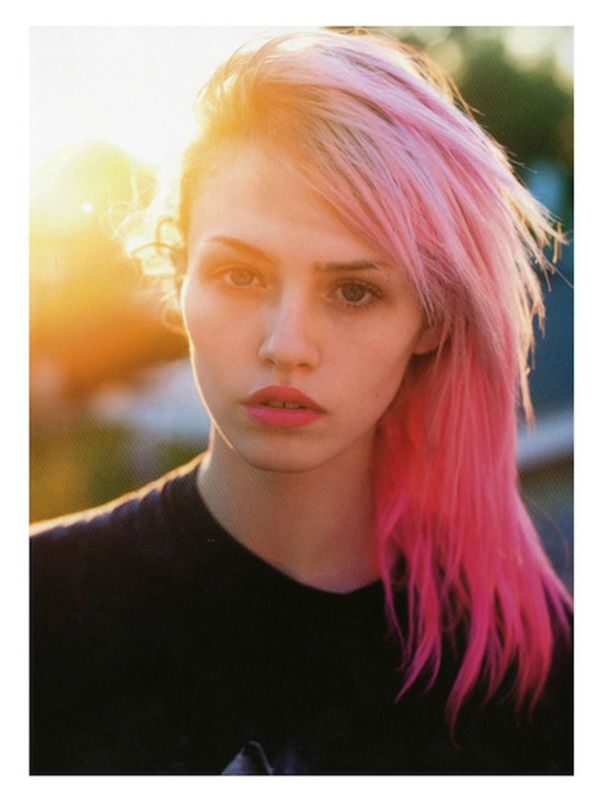 Vous vous dites surement "encore une jeune mannequin qui veut à tout prix faire parler d'elle", et si vous étiez à côté de la plaque? C'est vrai, elle a un nom qui sonne teenage, les cheveux couleur barbe à papa, un petit minois qui nous fait penser à celui d'un bébé boudant car il n'a pas eu son goûter. Elle est née en 1993 dans la ville de Los Angeles, elle a donc en plus l'American Style tellement recherché chez les jeunes filles et elle est la nouvelle emblême du Seapunk, ce qui la surprend elle-même. Et pourtant.
You probably think "still a young model who really want people to talk about her", and if you were wrong? It's right, she has a name who sounds teenage, the hair color beard candy, a little pretty face that makes us think of the face of a baby pouting because he hasen't his snack. She was born in 1993 in the city of L.A., so she has the American Style so sought by the young girls and she is the new emblem of the Seapunk, which surprises her too.
Primo: elle n'a pas cherché à se faire connaître a tout prix comme certaines jeunes filles en manque de reconnaissance, celles que l'on voit dans les séries un peu nunuches pour adolescents, elle s'est fait repérer en 2010 dans une salle de jeu vidéo à LA.
Firstly: she don't sought the sucess like some girls lacking of recognition, as those we see in the series a little silly for teenagers. Somebody discovered her in 2010 in a video games room at L.A.
Deuxio: Son nom de famille, "Free", est son vrai nom. Alors non elle ne chercher pas à se faire mousser en utilisant un nom très frais provenant directement des Etats-Unis! (la musique de la pub d'une célèbre banque me trotte dans la tête... I'm free, like the riveeeeeeeeeeeeeeer ♫)
Secondly: Her family name, "Free", is her real name. So no, she don't seek a very fresh name from the US or the UK.
Tercio: elle a les cheveux de cette couleur depuis qu'elle est ado, elle voyait ses cousins se teindre les cheveux et un jour, elle a voulu essayer. Le résultat lui a plu, et elle a continué a changer la couleur de sa crinière réguliérement, mais elle est toujours revenue au rose chewing-gum, effet délavé.
Thirdly: she try this color of hair from when she's a teenager, she has always seen her cousins dye their hair and one day, she would try. The result has pleased her, and she always back to the pink chewing-gum, with a faded effect.
Quartio: Un petit minois adorable vous avez dit? Son visage ciselé et parfaitement symétrique lui permet bien des choses... Sur certains clichés elle incarne la douleur, la souffrance, la solitude. Le regard noir, les cernes creusés, la bouche qui fait la moue, le dos bombé.. Mais il est vrai qu'elle apparaît plus souvent entourée de douceur ou délurée que morose. Seulement, n'oubliez pas que les mannequins sont des acteurs le temps de quelques secondes, le temps d'une photo, le temps d'un clin d'oeil.
Fourthly: A little lovely face you say? Her chopped and perfectly symmectrical face allows her a lot of face... On some pictures she embodies pain, suffering, loneliness. The look black, the carved dark circles, mouth who pouts, the curved back... But it's true that she often appears surrounded by sweetness. Only, never forget that models are actors the time of some seconds, the time of a picture, the time of a wink.
Quincio: Qu'est-ce que la tendance Seapunk? C'est, d'après la traduction littérale, la tendance "punk des mers" hmhm, intéressant. Oui bon d'accord, on veut en savoir plus. C'est le fait de porter des vêtements en rapport avec la mer, des animaux marins tels que les dauphins... je ferais un article pour mieux expliquer tout cela. En bref, c'est un style qui est original et frais sur la toile, mais tourne vite au ridicule dans la vraie vie.
Fifthly: What is the Seapunk trend? It's, according to the literal translation "punk of the seas hmhm, interesting. Yes, we would know more about that. It's the fact to wear clothes related to the sea, to the marine animals like dolphins... I will make an item for explain all this. Brief, it's an eccentric and fresh style on the screen, but which quickly turns to ridicul in real life.
Elle a signé en 2011 chez IMG Models (grande entreprise basée à NYC, recrutant les models de sexe féminin), puis a défilé pour Charlotte Ronson, Topshop, Vivienne Westwood, Jeremy Scott, Marchesa, Richard Chai, Louise Gray, Dazed & Confused et fait un shoot pour une publicité de la marque Uniqlo.
She signed in 2011 at IMG Models, then marched for Charlotte Ronson, Topshop, Vivienne Westwood, Jeremy Scott, Marchesa, Richard Chai, Louise Gray, Dazed & Confused and did a shooting for Uniqlo.
Elle est choisie pour être l'égerie de Maybelline en 2012, et de Bershka en 2013. Les vidéos d'annoncement: chez Maybelline et chez Bershka (cliquer sur le nom de la marque pour accéder).
She was choose for be the muse of Maybelline in 2012, and for Bershka in 2013. The announcement video: at Maybelline and at Bershka (click on the name of the brand to access.)
En bref, c'est LA fille à suivre dans les prochains mois, et vous n'avez pas fini d'entendre son nom.
Brief, it's THE girl to follow in the next month.
-THE END-

Bonus: son Tumblr!
Bonus: her Tumblr!
Ca vous a plu? Pour ma part, je suis complétement fan de cette fille!
Do you love this item? I absolutely love this girl!
Kiss on your checks babes. xoxo